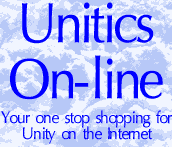 This New Thought WebRing
site sponsored
by Unitics On-line
Random Site
List Sites
Join the WebRing
My URL: http://welcome.to/uniticsonline



I got it for free at http://come.to
Unitics isn't just a silly name;
it's a way of explaining that
we can take ourselves lightly.
This site serves that ideal-
taking yourself lightly, by offfering
spiritual nourshiment
to a Global Community.
It is the purpose of this site
to unite Unity People and those of similar thought from all around the world,
into a on-line global community.
We welcome and bless you!

If it's in Unity, and it's on-line- it's here!
You can now give a Love Offering to Unitics On-line over the internet - via secure server! We accept Mastercard, Visa, and Checks! If you would like to see this further this ministry, please give your Love Offering today!
Free Unitics On-line E-Mail available!
Looking for a new permanet eMail acount? Or just for a place to get all your Unity mail? Tell the world you are a unitic through our new free eMail service! You can have your unitics eMail for the rest of your life, and access it from anywhere in the world! Your eMail address will be YourName@uniticsonline.zzn.com
Sign up Today
Are you looking to chat with
other Unity People all around the world in a real time? Right now at
Unitics we have a Monday Night Chats, which allow you to talk with Unity People all over the world. We are currently studying Conversations With God...
[more]

What is Unity?
This is probably the oldest question about Unity since it began. What we have done is taken all of these common threads in Unity Pages On-line and put them in a centralized location to your left. So, what Unity is..
[more]

Take our survey!
Our Current Question:

How often do you
attend church?

Looking for the lighter more fun side of Unity on the Web? You can send your friends eMail greetings with our Unitics Digital Post office, get an affirmation with our affirmation machine, and even vote for your favorite Unity Website...
[more]

Are you working on a website for your church? Are you having some challenges with that- or maybe there's a question of where you can get pictures for it. We have all that information here, along with stuff you may not have even thought of!...
[more]

Are you looking for a book?
We are selling tons of books here at Unitics On-line, which would be quite helpful to people on their spiritual journey. We have tons of titles, and you are helping support our site- the sales of the book will be used to get a domain name..
[more]

Would you like some books for free? There are tons of books (especially Charles and Myrtle Fillmore books) that are on-line, and free for the printing- or downloading- or just reading on-line! We have them all listed here.....
[more]

Are you a Parent of younger children? Maybe you are a Sunday School Teacher... the internet has tons of resources for you, and your child. There are many websites that have spiritual themes for children, and just fun stuff for them to do on the internet... [more]

Are you looking for somebody in particular to reconnect with? We have information on how to find people through the powerful force of the internet. We have gathered tons of resources to help you find people who are in Unity and may now also be on the internet..
[more]
Join our Featured eMail group--The Unity Singles Group!
If you are single and in Unity and looking for an active community of people on-line look no further! We have a very active group going on right now at Unitics On-line. First there is the eMail group, which is led by Susan. This group ---sends out a lot of eMail everyday! It's very exciting! If you wish to be apart of this eMail group -- you can join here--or eMail Susan for more information.
Our singles group also has a bulletin board---that they send messages to. You are welcome to visit that at this site. For more information about Unity Singles on-line, please eMail Susan. Love and Light to you!
We've had
angels visit our site!
This page was last revised on April 6, 2000
This site not officially affiliated with
Association of Unity Churches
Unity World Headquarters
Daily Word
Silent Unity
But we like them a lot, and recommend them often!
"Be ye transformed by the renewing of your mind"- Romans 12:2