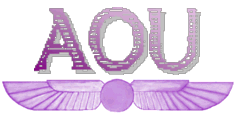 Who are we?
Local Chapters
Start a Local Chapter
AOU Dream Team
Photo Gallery
Conference 2001
Regional Events
AOU Calendar
Spiritual Food
AOU Bookstore
AOU Store
Tithe to AOU
Links
Contact Us
The AOU Store
We have great shirts and sweatshirts for those regional events,
your local chapter, or even conference.
We also offer coffee mugs, and a mouse pad. The profits benefit AOU--
Thank you for supporting this ministry!
Here's a preview of some of our products...click on them to buy!