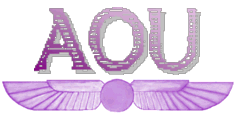 Who are we?
Local Chapters
Start a Local Chapter
AOU Dream Team
Photo Gallery
Conference 2001
Regional Events
AOU Calendar
Spiritual Food
AOU Bookstore
AOU Store
Tithe to AOU
Links
Contact Us
Tithe to AOU
By using this link, you can tithe directly to AOU, through the Association of Unity Churches. On this form, please mention that your tithe is for Adults Of Unity, so that we can properly process that information.
Thank you for your tithe, and blessings to you on your path!
Information on the Association Of Unity Churches
Sponsor Of Adults Of Unity